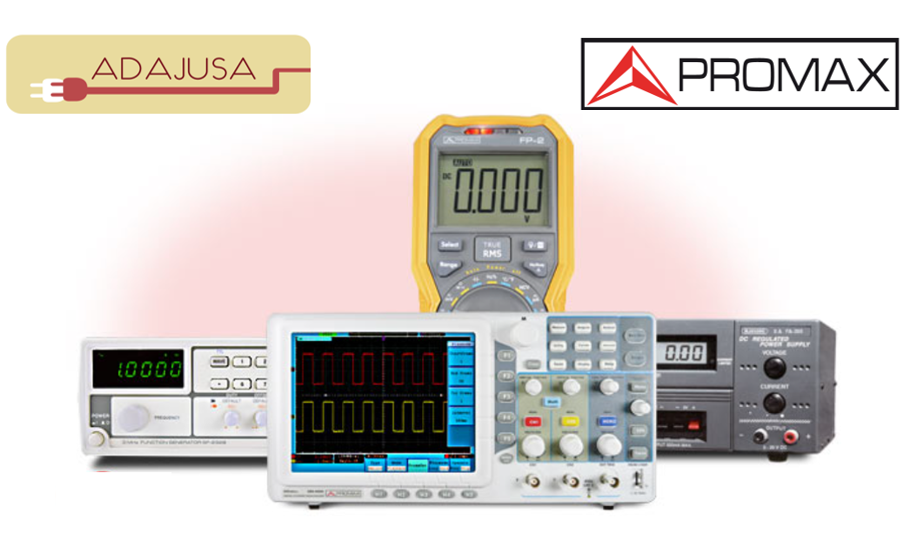 PROMAX, a well-known Spanish measuring equipment brand, is a leading company in the field of information and communications technologies, as well as in the field of measurement and testing. It holds a large number of patents and manufactures a wide range of instruments and applications.

In order to offer a wide range of material and a complete service to our customers, and focused on finding in ADAJUSA all the necessary material for their activity we have a wide variety of measurement and instrumentation equipment for any type of application.


INSTRUMENTATION AND EQUIPMENT FOR DIDACTICS
We have product kits specially designed for the training and learning of students initialized in university studies, VET courses or at the level of institutes.
Laboratory equipment that has the necessary features so that the student can learn and acquire knowledge with the maximum safety and reliability of the equipment, as well as an easy handling of them.
Consult our didactic kits to see more in detail their equipment and characteristics:
BASIC WORKSTATION KIT
.es/instrumentos-de-medida/kit-puesto-de-trabajo-basico.html https://adajusa


ADVANCED WORKSTATION KIT
.es/instrumentos-de-medida/kit-puesto-de-trabajo-avanzado.html https://adajusa




INSTRUMENTATION AND EQUIPMENT FOR THE PROFESSIONAL
We have a multitude of equipment for the electrical installer, equipped with different characteristics depending on the application to which they are intended.
Multimeters, clamp meters, ground and loop impedance meters, isolation meters, facility testers, multifunction equipment, power supplies, oscilloscopes.
Among all these instrumentation equipment you can find those necessary for compliance with the Low Voltage Regulation (REBT) for authorized installers in compliance with the basic category (IBTB).
Consult our equipment and its characteristics:
https://adajusa.es/instrumentacion-de-laboratorio-y-portatil


Feedback (0)
No comment at the moment