SAFETY PRECAUTIONS (ANNEX TO THE INSTRUCTION MANUAL)
Before installing, wiring, using, maintaining and inspecting the device, be sure to carefully read the operating instructions to ensure proper operation. This manual does not replace the one supplied by the manufacturer, it only expands and complements it.



WARNING:Ignoring the message can result in death or serious injury.



CAUTION: Ignoring the message may cause minor injury or physical harm.




Before installation or handling disconnect the device from any power source to avoid electric shocks and/or burns due to short circuits.
Do not touch any bare (unprotected) terminals. There will be an electric shock.
Do not touch two active lines simultaneously, an electric shock will occur.
Do not install or manipulate the device without proper protective elements or with wet hands.
Do not install, connect, or disconnect or manipulate the charging device. With the exception of power outlets, on plug-in devices, never connect them while in voltage.
If you do not have or doubt that you have the appropriate technical knowledge, never install or manipulate the device.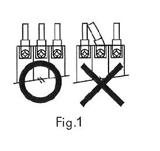 Before installation, be sure to carefully read these operating instructions to ensure proper operation.
The installation, maintenance and inspection of electrical devices must be carried out by qualified technicians with special knowledge.
Do not install the device in place of an environment with shocks, high temperature, humidity, dust, corrosive gases, excessive vibrations, etc. to avoid fire accidents and /or malfunction of the device.
Use electrical devices for the voltage and rated current features shown on the nameplate, if it cannot cause a malfunction and even cause dangerous situations.
Tighten the terminal screws with the proper tightening torque to prevent overheating. Make sure that the device and the connecting cables are securely attached.
Always use terminals on the cables to which the device is connected, these must be of appropriate section to the load to be supported.
In the case of having several nearby terminals, each terminal or conductive pole must be connected in parallel, as shown in Fig1.
If the device is equipped with grounding terminals, be sure to ground.
Always connect the device by following the instructions and schematics provided by the manufacturer. Never exceed the operating ranges indicated by the manufacturer.
Do not modify the device.
When the device has to be discarded, it must be done as an industrial waste.
Do not connect aluminum terminals and conductors to the switch directly.
Always comply with the regulations in force at the installation site.
Other precautions
Be careful not to suffer damage from accidents during transportation, handling, or installation.
Always check if there is additional documentation on our website at adajusa.es