Analog multifunction timer relay, narrow profile (17.5mm) and DIN rail mounting. With a switched output contact. The main characteristics are the wide range of supply voltage, regulation time range and operating modes. It has a status light indication.
Power supply voltage range:
Direct current: 12V to 240Vdc.
Alternating current: 12V to 240Vac.

Time range:
0.1 to 1s.
1 to 10s.
6 to 60s.
1 to 10min.
6 to 60min.
1 to 10h.
0.1 to 1 day
1 to 10 days.

Technical characteristics:
Type: Multi-function timer relay.
Model: GTR8-M1.
Voltage range (Un): 12-240V ac/dc.
Frequency in AC: 50-60Hz.
Supply voltage tolerance: -15%, + 10%.
Power input: 6VA / 1.3W.
Operating modes: 10.
Time ranges: 0.1s to 10 days.
Time setting: Rotary switches.
Repeat accuracy: 0.2%.
Output contact: 1xSPDT.
Current rating: 16A (250Vac, cosφ=1).
Switching voltage: 250Vac/24Vdc.
Min. breaking capacity DC: 500mW.
Power indication: Green LED.
Output indication: Red LED.
Mechanical life: 10,000,000 cycles.
Electric life: 100,000 cycles.
protection degree:

IP40 for front panel.
IP20 for terminal.

Width: 1 modulo 18mm.
Dimensions: 90x18x64mm.
Regulations: IEC / EN 61812-1; 610947-5-1.

Wiring diagram: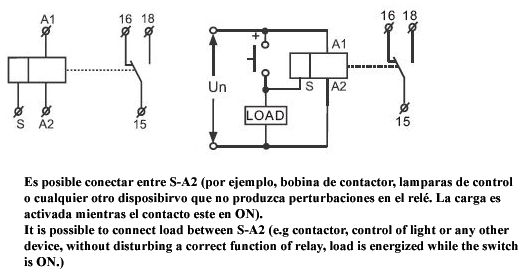 Modo A: On Delay, a la conexión (trabajo).

Modo B: Interval, a la desconexión

Modo C: Repetat Cycle, ciclico (Inicio sin activar - OFF)

Modo D: Repear Cycle, ciclico (Inicio activado - ON)

Modo E: Off delay, a la desconexión (activación por terminal S)

Modo F: Single Shot, Pulso de salida (disparo por flanco de subida).

Modo G: Single Shot, Pulso de salida (disparo por flanco de bajada).

Modo H: On/Off delay.

Modo I: Latching relay, rele con enclavamiento.

Modo J: Pulse generator, generador de pulsos

Dimensiones: